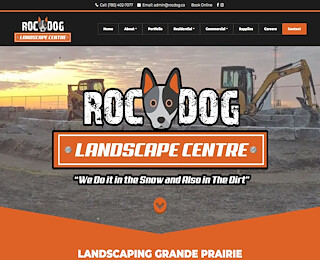 If you are looking for commercial or residential lawn care in Grande
Prairie, Alberta Canada, Rock Dog Contracting LTD is a full service
yard care and maintenance company and they even work during the winter
in the snow.

What services does Rock Dog Contracting offer?

For residential customers we offer the following services using eco-
friendly products that are safe for your children and pets. If you are
looking for a full-service lawn care service, we have you covered. If
you like your lawn looking its best, we can help.

·         Lawn mowing

·         Fertilizing and weed control

·         Landscaping, including sod, and flower gardens

·         Shrub and hedge planting and trimming

·         Tree planting and removal

·         Repair and install fencing

·         Spring cleanup

·         Junk removal

·         Gutter cleaning

·         Masonry work

For commercial customers we offer many of the same services but have a
few extras. Of course, we can do the same for private customers too.

·         Exterior pressure washing

·         Concrete, asphalt work

·         Fence repair and installation

·         Weed control and spraying

·         Parking lot cleaning

·         Green space cleanup

·         Masonry work

·         Lease Maintenance

Lawn care in Grande Prairie can be challenging because of the weather,
but we work in the snow too. We are dedicated to keeping your lawn or
building grounds well maintained and looking their very best. Plus, we
are dedicated to using the most eco-friendly products we can find.

What kind of products do we use?

We pride ourselves on using the safest products available for use around children
and pets, plus the products are environmentally friendly. Two great examples
are our flake ice melt and lawn fertilizer.

·         GRM Ice Flake Melter contains calcium chloride and is the
best ice melting combination because of its speed and length of time
it keeps your walkways ice free. Quickly melts ice and is safe to use
on walkways, driveways, gravel, and has a blue dye, (environmentally
friendly and water soluble) so you know where you have previously
applied it.  It comes in a resealable bag, so it won't get
spilled. It is also safe to use around plants when applied correctly.

       46 Lawn Fertilizer, Nitro Boost contains stabilized nitrogen
and releases the plant food slowly for up to 45 days. This produces a
beautiful lush deep green lawn with thick grass blades.

If you are looking for lawn care in Grande Prairie, Roc Dog
Contracting is a great place to consider.



What to look for when hiring a professional lawn service?

·         What is their reputation? The internet has changed how we do
many things and you can read reviews online. This is a good place to
start along with asking friends, family and neighbors.

·         Are they licensed and insured?

·         What trade organizations do they belong to? Belonging to
trade organizations helps companies stay abreast of new products and
improved ways of completing projects.

·         What's their customer service like? This is important
because you want them to care about you and your needs.

We have a "can do" attitude and would love to be your lawn and yard care team.
Lawn Care Grande Prairie
We welcome your comments!